Bigeta Energy is an ISO 9001: 2015 certified consulting and advisory firm which provides services like Energy Audit, Power Quality, Thermography, Electrical Safety , Reliability & Sustainability, based in Bangalore, India. We provide consultancy services in Energy Audits & Assessments, Energy Conservation, Electrical Power Assessment, Electrical Safety Assessment, Measurement & Verification, Thermal Imaging, Compressor Air Audits, Energy Data Analytics, ISO 50001 EnMS, Green Building and Training.
We are a team of BEE accredited energy auditor, BEE Certified Energy Auditor, Energy Manager, Certified Measurement and Verification Professional (CMVP), ISO 50001 lead auditor, CEM Trainer (AEE USA), IGBC Accredited Professional(IGBC AP), GRIHA Certified Professional (GRIHA CP), Safety and power quality professionals committed to giving most promising solutions to customers to save energy and attain sustainability. Our resources successfully executed more than 350 projects in 11 countries, and helped many of Fortune 500 companies to improve their safety reliability and sustainability.
Services
Focusing on Safety, reliability and Sustainability, Bigeta offers services and solutions that can reduce overall cost of operation. Our comprehensive solutions are focusing to give value  Our services include energy auditing, PAT Mandatory Energy Audit, PAT Consultancy, electrical power assessment, Harmonic Audit, electrical safety assessment, Electrical Reliability Assessment, measurement and verification, thermal imaging, energy data analytics, Remote Energy Monitoring, ISO 50001 Energy Management System, green building, project implementation and training.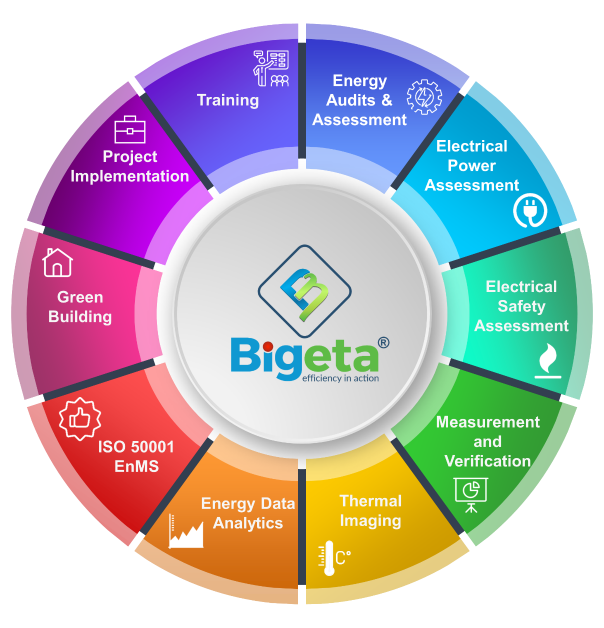 Aluminum, Steel, Mining, Glass, Refractory, Cement, Paper and Pulp, Power plant, Automobile, Engineering, Textiles, Apparels, Carpets, Tyre, Rubber, Battery, Natural Stone processing, Diamonds
Offices, Hotels, Hospitals, Commercial Buildings, BFSI, IT buildings, Commercial Buildings, Data Center, Pharma, Ports, Townships, Golf Clubs, Highways
Food and Beverages, Milk, Milk Products, Noodles, Packaged Water, Cereals, Tea, Rice mill, Medical Products, Specialized Materials